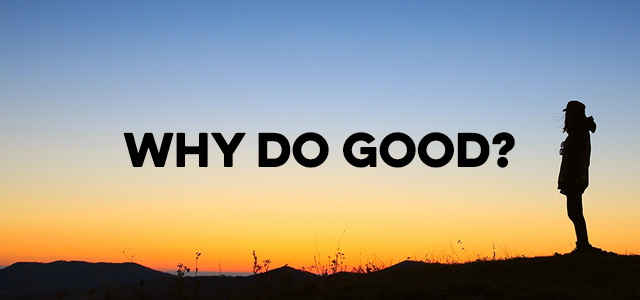 In Matthew 6:1-4 Jesus again raises the issue of motivation – why we do the things we do.  In verse 1 he says, "Beware of practicing your righteousness before other people in order to be seen by them…" (emphasis mine).  Let's be clear, a lot of good things are necessarily done "before other people."  It's hard to hide yourself when welcoming a refugee into your home. It's hard to advocate for the unborn in silence. It's hard to love your children and be absent from them. And it's more meaningful to pray aloud with a friend than to simply tell them, "I'll be praying for ya, bro." The problem is not other people seeing you do good. The problem is when being seen by them is what's driving you; when the attention, the approval and the accolades is what fuels you. 
When we become more concerned about our image than our authenticity, we're hypocrites. And God sees right through the facade. 
So Jesus calls us to be aware of our motives so we don't foolishly think we are earning favor when in reality "you will have no reward from your Father who is in heaven." And in his sermon on this passage, Pastor Andrew gave us 3 questions to ask to keep our motives in check. 
1) Why do I do that?
Is it in order to appear a certain way? To receive a favorable response?  To preserve my desirable image?
2) What is my initial response to things?
What did I think was under attack when I became defensive? What did I sense being taken away when I became angry? What did I fear when I became so critical?  What do I crave that caused me to get so excited?
3) Am I as satisfied with my righteousness in private as I am with my righteousness in public?
Is there a discrepancy between my private disciplines and public activities? Would it be enough if only God knew? 
Feeling convicted?  
Well what if you didn't need to gain anything by what you do?  What if you already had all the approval you seek?  What if you were already seen as generous and righteous and perfect?  
Because Jesus died in our place and atoned for our sin, God sees every follower of Jesus as He sees Jesus. Jesus took the penalty we deserved and gives us the credit for the righteous life he lived. That means that what God declares over Jesus is true for the follower as well:  
"This is my Son, whom I love; with him I am well pleased" (Matthew 17:5).  
So no longer do we act in order to gain anything, we act in response to what has already been given. You don't need the approval or attention of others when you have the approval of God! You are now free to love others without being ruled by their opinion of you.
Blog by: Bryan Miller (Connections and Missions)
https://mercyhillchurch.com/wp-content/uploads/2014/10/WhyDoGood1.jpg
300
640
nsmith
https://mercyhillchurch.com/wp-content/uploads/2019/03/MHC_Logo_New.png
nsmith
2014-10-28 17:06:57
2014-10-28 17:11:37
Why Do Good?