Understanding Adoption from the Inside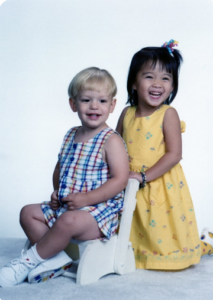 This is a photo of myself and my younger brother. Let me address the elephant in the room, "How are these two related?" Well, my brother and I were both adopted. Adoption, like my brother and I, looks very different. It can be a child of any age, any background, and any race, and each child is affected differently by it. Today, I want to share with you briefly about my own adoption, and I hope to shed some light on what being adopted can do for a child beyond just their earthly needs.
My parents did an amazing job, raising me to be proud and excited about my culture of origin while maintaining the balance of my identity as an American and as their child. My complex identity was such an innate concept to me that I didn't even realize the gift and uniqueness I had until a specific event when I was about seven years old. During a neighbor's weekend garage sale, I was out in their yard, playing with their daughter, when I caught the eye of an older Asian couple. The older man approached me and said something in another language I couldn't understand. I stared blankly back, very confused. He finally asked me, "Are you Chinese?" I said yes. He replied, "Well then what do you speak at home?" I explained to him I don't speak Chinese because I'm adopted and my family only speaks English. The couple seemed to light up at this. They both then continued to ask me questions about my family and my adoption. I don't remember much more of the conversation except that he and his wife kept repeating how "lucky" I am (Oh, and to not "let boys distract you from school"). I believe it was that interaction that first made me realize that my adoption made me different—beautifully different.
Physical Adoption Helps Us Understand Spiritual Adoption
Now, some adoptees will resent this difference, but I have always embraced it. I never felt strange, and I never felt like I didn't belong. To me, it is a visible and obvious sign to the world that I was intentionally chosen to be loved. This concept of knowing what it meant to be "chosen" overflowed into my faith life as I got older. Because I grew up knowing what it meant to be literally chosen and rescued from a life of poverty and loneliness, when I heard that Christ had chosen me to be his child and rescued me from death, it was so easy to understand since I had already seen what that looks like from my parents.
My adoption has also made my relationships with others easier. It has helped me see past the brokenness people carry, past the cultural and racial differences, and love them for where they're at now and for their future because that's what my parents did for me. These are all gifts that I've gotten from being adopted that I didn't even realize I had until very recently—all of these spiritual gifts in addition to the obvious earthly ones. Words truly cannot describe what a blessing adoption was for me.
If you are interested in getting involved in adoption or foster care, click here for next steps!
-Emma (Clifton Attendee)