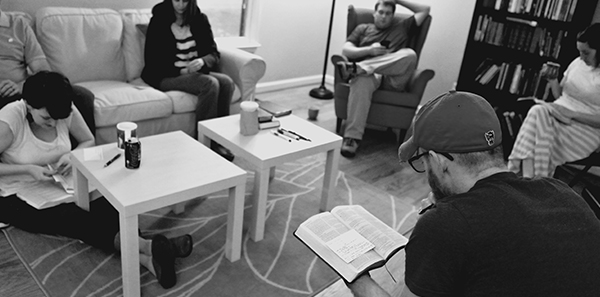 I shouldn't be writing a blog post like this right now, after all, Grouplink is just around the corner and the word "difficult" is not one that we like to hear coupled with "community" (much less any other word). What I should be doing is telling you about all of the benefits of a life lived in community—things like a Godly support network, friends to help you walk through Scripture, brothers and sisters who will pray over you fervently and consistently. All of those things are 100% true of Community Groups and are definitely worth writing about. That's what I should be writing about…but my heart is in a very different place right now. Instead, my heart is heavy for the mission of God both here and abroad and God's mission has deeply affected my Community Group. So what I'd like to do is share with you how the mission of God has affected and directed my Community Group over the past few months and then maybe you will be able to understand where I am coming from.
Let me start by saying that over the past several months we have experienced love and care beyond what we deserve or even imagined possible from our Community Group. We've had people watch our children for us at the very very last minute (you know who you are), we've had families bless us by taking us out for an evening on the town (all expenses paid), one of our group members helped me work on our kitchen floor for about 8 hours one Saturday. We've had encouraging face to face conversations and received encouraging letters and notes via social media and email…we've been blessed by these people! Beyond that, we have learned so much about God together and have been built up in our faith—now on to the difficult part where the mission of God has deeply affected our Community Group.
This week we said goodbye to one family from our group that is headed to the foreign mission field. These are friends that we have known for over ten years now. We have wept with them in times of sorrow and rejoiced with them in times of joy. We have been sharpened by one another in a way that only a Christ centered friendship can accomplish. Needless to say it was tough to drop them off at the airport this morning.
I have had multiple conversations with them wherein they have expressed the tension in their hearts. This tension is something that I am sure all missionaries feel at some point, the tension between how good things are here (how great their relationships and friendships are) and how much the world needs to hear the gospel (how others need to experience Christ-centered relationships and community). I admire them because the temptation was for them to not engage in relationships here in the states because in some way that might make saying good-bye a bit easier. Despite knowing that it would make their departure more emotionally difficult this time, they made a conscious decision to deeply engage with our group and with us. This did indeed make their departure more difficult for them and for our group but I'm glad they chose to open themselves up. We will miss them greatly.
Next week, our group will undergo yet another change for the sake of the mission. We are sending a couple from our group out to plant a new group in the triad area. If you've been around Mercy Hill over the past several months, then you have witnessed first hand that God has seen fit to bless this body of believers through numeric growth. As a staff member at Mercy Hill, I am blown away by God's faithfulness in this body of believers. But I also know first hand how much these new people need to be discipled—they need the type of community that only the gospel can create. They need leaders who are Spirit-filled and serious about the mission of God. It will be very painful to launch our group members out in order to plant a new group, but necessary for the sake of the kingdom.
So there you have it…that's where I am. I feel a very real tension in my heart, wanting to cling tightly to those that God has brought into our group but also wanting for those who are far from God to hear the gospel and experience the same type of community that I have experienced.
So what's my purpose in even sharing any of this with you? I would say it is two-fold. First of all, I want to say that for those of you who will be sending a family out from your group so that they can plant a new group this month…I feel your pain and understand the difficulty of a faith and a church that is more concerned with sending capacity than seating capacity…but I wouldn't have it any other way.
The second reason I write this is for those of you who are not currently in a Community Group. I am certainly NOT trying to scare you away from Christ-centered community. To the contrary, there is nothing greater than being in fellowship with the Father and in fellowship with brothers and sisters in Christ. We are launching multiple new groups through an event called "Grouplink" next Friday, January 23rd at 6:00pm. You can find more info about Mercy Hill Community Groups and even sign up for a group by following the link below.
I will not sugarcoat it though; God just may call you into greater levels of service for His kingdom. He may call you away from that Group that you love so much to serve him overseas or he may call you to lead your own group in the triad area in the near future. But guess what? It is absolutely worth it for the sake of His great name and His glory!
www.mercyhillgso.com/grouplink
-Randy Titus (Community Groups) 
https://mercyhillchurch.com/wp-content/uploads/2015/01/CommunityBlog.jpg
297
600
nsmith
https://mercyhillchurch.com/wp-content/uploads/2019/03/MHC_Logo_New.png
nsmith
2015-01-16 19:28:49
2019-01-04 13:44:57
What's so Difficult About A Community On Mission?